RDF funding used to highlight research needs for Welsh National Parks
In September, the NRN-LCEE funded a multidisciplinary workshop through its Research Development Fund, to address the research needs of the Welsh National Parks. The event was hosted by the University of South Wales and the Brecon Beacons National Park Authority, and was attended by 52 delegates from across Wales and the rest of the UK. All three Welsh National Parks were represented, as well as the Universities of South Wales, Swansea, Cardiff, Bangor and Trinity St Davids, Dŵr Cymru Welsh Water, Natural Resources Wales, the Wildlife Trust and other organisations.
To start the event, each National Park gave a brief talk summarising their current plans and priorities. Delegates were then able to choose two out of four breakout sessions, each addressing a different National Park priority. Discussions continued well into the evening and on the following morning ideas were crystallised into specific action points to take forward. These included the organising of a biennial Welsh National Park research conference and specific projects to help improve the sharing of data.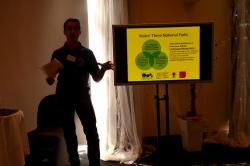 Holding the workshop outside the cities, meant that all delegates could leave behind their everyday responsibilities and fully engage with discussions, developing new ideas and collaborations.
As one of the delegates commented: "A very good opportunity to get together with researchers, policy makers and public bodies as well as National Park Authority officers to identify research opportunities, discuss key themes and consider how National Parks can both contribute and benefit from the opportunities and topics discussed."
Publication date: 11 October 2017