News: NRN-LCEE Closing Event
The Sêr Cymru NRN-LCEE Closing Event took place in Cardiff on 28 November 2018 with attendees from universities across the UK, Welsh Government, Natural Resources Wales, British Geological Society, UK Met Office, Wales Green Party, Farmer's Union of Wales and industry. Prof. David Thomas, NRN-LCEE Director, opened the event by celebrating the achievements of the Network. The day included three stimulating keynote talks:
Prof. Janet Dwyer, Professor of Rural Policy & Director of the Countryside and Community Research Institute, University of Gloucestershire.
'Towards sustainability and resilience: the value of social processes'
Janet examined ways in which thinking sustainably becomes embedded in agricultural, economic and social values and practices. She addressed the critical importance of people and social processes in achieving rural resource use sustainability, and concluded her presentation with an agenda for future action that emphasises people, community and culture as vital ingredients in the mix.
Prof. Camilla Toulmin, Senior Associate & former Director of the International Institute for Environment and Development.
'How can we accelerate the transition to a low carbon economy – locally and globally?'
In context of the Paris Climate Agreement, 2015 having set a clear target for all nations to shift to a low carbon economy, Camilla examined the options for different countries and how to accelerate the transformation of economic systems to meet the Paris targets. Camilla highlighted the recent Energy Transitions Commission report addressing zero-carbon transition: Mission Possible: Reaching net-zero carbon emissions from harder-to-abate sectors by mid-century.
Prof. Patricia Thornley, Director of the European Bioenergy Research Institute, Aston University & the Supergen Bioenergy Hub.
'What next for (bio)energy?'
Patricia outlined the diversity of bioenergy systems and challenges associated with sustainable production and conversion. She then critically examined the frameworks in place to promote their sustainability and effectiveness at delivering policy objectives including the governance of bioenergy systems and mechanisms to improve transparency and efficiency in certification and approval. Patricia highlighted the recent Climate Change Commission report: Biomass in a low-carbon economy.
Alongside the keynote speakers, eight of the NRN-LCEE PhD students gave effective succinct presentations; each deftly summarising multiple years of their research into just five minutes.
In conjunction with the event's talks, the NRN-LCEE research Clusters held a vibrant exhibition communicating the aims and key findings of their research - including the incorporation of outreach materials ranging from model sheep, tidal turbines and landscapes to living plants, aquatic animals, rock samples and 3D geological visualisation technology.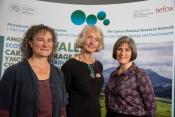 Final Event Keynote speakers; Janet Dwyer, Camilla Toulmin and Patricia Thornley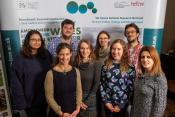 PhD students, Front: Webb, Hindaugh, Weatherhead, Almolliyeh, back: Rafique, Turner, Waldron, Soares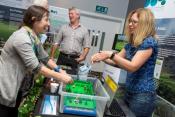 Multi-Land's simulation in action to demonstrate the hydrological dynamics of trees in the landscape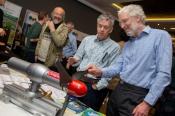 Quotient's model turbine in action to explain the science behind marine renewable energy generation
Related documents:
Publication date: 14 January 2019