Much interest in vertical farming in Wales
In mid-June, representatives from Welsh Universities, Welsh Government, energy businesses, food-based social enterprises, anaerobic digestion installers, the (vertical) farming community and associated organisations, attended a workshop exploring opportunities for co-locating vertical farms in Wales. The concept of vertical farming is often criticised for its perceived lack of economic viability due to energy requirements and start-up costs. One way to address this challenge is to seek co-location of vertical farms with producers of waste resources which can be used by the farm (nutrients, heat, CO2 etc.).
Vertical farming is different from conventional forms of farming because the indoor environment, water and nutrient availability can be closely regulated. It is therefore promising for reducing food chain length and transport distance, manipulating growing conditions and plant growth, and improving the efficiency of energy, water and fertiliser use. The NRN-LCEE Plants & Architecture Cluster undertakes research into vertical farming as a new environment for growing crops: One for which existing crops have not been selectively bred and one where research can be directly applied to large scale food production.
Based on the workshop's discussions, retrofitting vertical farms on industrial buildings in urban areas in Wales located near sources of energy, heat and CO2 is an attractive proposition. In semi-urban areas, the re-purposing of brownfield sites using retro-fitted soilless growing technology, could allow high value produce to be grown on low-value land. The biggest opportunity was identified as on-farm diversification through co-location with anaerobic digestion. This would make use of a growing source of waste nutrients in the form of slurry and chicken litter. Challenges include the definitions of vertical farming within planning and business legislation, as well as the planning landscape in general, in particular for on-farm applications.
Feedback from attendees revealed that many whom had not previously considered the opportunities for vertical farming in Wales, gained a much better understanding from the event. They also found it an excellent opportunity to make the new connections needed for developing vertical farming in Wales.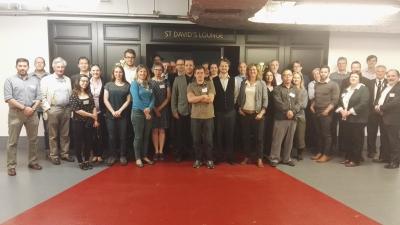 Workshop attendees at the Principality Stadium in Cardiff.
Publication date: 28 June 2017