Innovative circular economy solutions for the Anaerobic Digestion industry
A workshop, funded through the NRN-LCEE Research Development Fund, was held overlooking the Principality Stadium in Cardiff on 11th October to discuss new ways that algae could help strengthen the Anaerobic Digestion (AD) industry as part of a developing circular economy.
A team of 30 expert stakeholders including policy makers, industry practitioners and academic researchers contributed to the workshop combining expertise on agricultural nutrient management, anaerobic digestion of food and farm waste and cultivation and use of algae. Algal technologies could bring sought after solutions to help close nutrient cycling loops, addressing nutrient bottlenecks and adding value to enable further expansion of a thriving AD industry. Tim Pullen AGL Energy Ltd commented 'It is good to know that there is genuine innovation occurring in the AD industry'.
The workshop led by Swansea University (Carole Llewellyn, Associate Professor of Applied Aquatic Bioscience), Aberystwyth University (Dr Will Stiles, KE Fellow) and Bangor University (Dr Dave Styles, Lecturer in Life Cycle Assessment) demonstrated the effectiveness of bringing different communities together to create new innovative solutions to food and farm waste processing and deriving value products such as fish feed and biochemicals. Lynsey Melville, Professor of Environmental Engineering at Birmingham City University, commented 'The range of expertise in the room was invaluable and led to a really productive and interesting forum'. Many new useful contacts were made through the day and the network will continue to work together.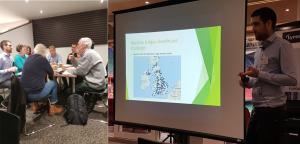 Publication date: 18 October 2017